9 Best Surf Spots In Zanzibar
Can you surf in Zanzibar? The answer is Yes! Zanzibar has some of the magnificent surfing spots. It's crazy that most surfers haven't even caught wind of the incredible waves this place has to offer.
Zanzibar is a stunning Island in the Indian Ocean, located 20-50 km off the African mainland. It's your tropical paradise, with dreamy weather, warm waters, and beaches that'll make you pinch yourself.
Water sports have gained popularity in recent years in Zanzibar. Now, the waves might not be hitting you with Hawaiian or Portuguese-level giants, but this place sure has a lot to offer.
Beaches are so picturesque that they look like postcards, with water so clear it's like diving into a crystal and fine white sands stretched far wide. Add in some killer sunsets and the aroma of mouth-watering cuisines wafting through the air.
Beyond its stunning beauty, Zanzibar is this rad surf spot that's kinda been hiding in the shadows. Catching the perfect wave here is all about knowing the sweet spots before you paddle out.
It's time to dive into the 9 sickest surfing spots that absolutely need to be on your travel hit list.
As the owner of this website, I've included some recommendations for your trips. When you use the links to make a purchase, I may get a small commission. You will not get charged extra. Full disclosure.
When planning your trip, use my recommended travel resources
✈️Find the cheapest flights with WayAway flight aggregator
Get up to 10% cash back with WayAwayPlus
📷Book tours with GetYourGuide or Viator
🏨Find accommodation with Booking or Expedia
🛜Stay connected with Airalo eSIM
👩‍⚕️Wherever you travel, bring insurance with you. SafetyWings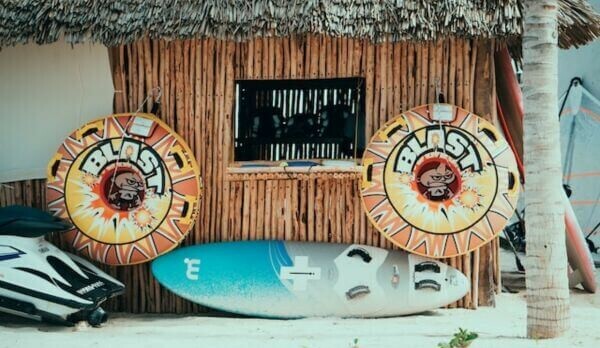 Best Time to Surf In Zanzibar
Zanzibar's got its own surf rhythm, unlike any other surf location. You can find two killer seasons to snag those epic waves. It kicks off from June to October, serving up consistent swells that are like a dream for both newbies and those cruising in the intermediate surf zone.
However, the winter season, starting from December to March offers high swells and challenging barrels for advanced surfers.
You can find decent waist-high waves or chest-to-head high waves when it's working. Access to all surfing locations in Zanzibar requires a boat, as they are situated on the reef.
It is not advisable to surf solo in Zanzibar, given that the spots are not less popular and can be risky due to shallow reef sections, rip tides, and sea urchins.
Places To See In Zanzibar
Zanzibar is full of amazing people and places. The majority are Muslims, so you better be careful about your dress code. Shorts and bikinis would work on the beaches as they are full of tourists all year round, but when you plan to explore the city, it's best to show a little modesty.
From turquoise beaches to the historical Stone Town, Jozani Forest's red-colobus monkeys, and the Seaweed Center near Paje – it's a feast for the eyes. Don't miss Forodhani Gardens or the tallest building in Zanzibar, "Palace of Wonders."
Spice Tours in Stone Town is a must for all the spice lovers out there. And for a dose of cuteness, check out the amazing turtle sanctuary.
For places to stay in Zanzibar, check these best hotels here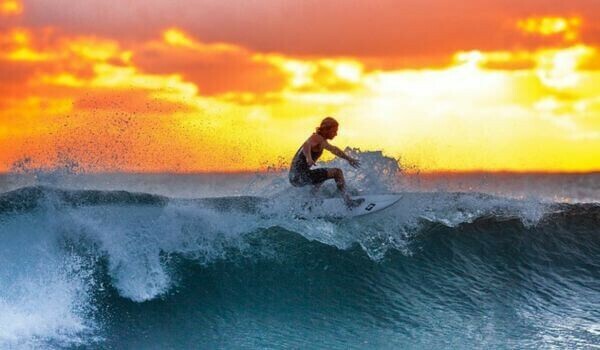 1. Nungwi
Nungwi in Zanzibar is a killer surf spot with awesome white sands, crystal-clear water, and coral reefs full of colorful fishes and palm trees that give off a soothing vibe. Located at the northern tip of Zanzibar, Nungwi isn't just about enjoying a scenic view or devouring tempting cuisines- it's about exploring those lesser-known waves for the ultimate surf sesh.
You gotta time it just right, though, because it's all about catching those perfect low and high tides. Nungwi is a reef break that offers consistent, reliable surf. It works great when it experiences offshore winds from S/W, and the swell angle tends to be from the east. The best time to surf is during winter and in May.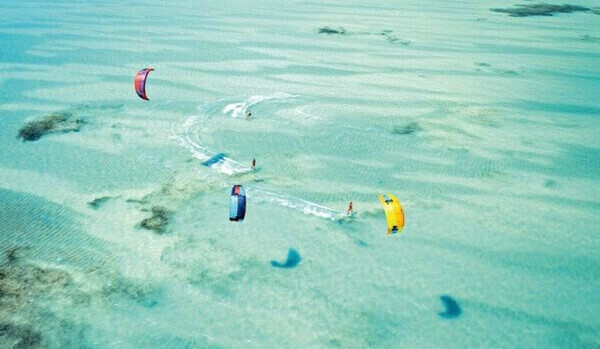 2. Paje
From wave surfing to kite surfing, Paje is a hotspot that attracts surfers like a magnet. It's super cheap to rent the necessary surfing and other gear for the trip. It's a beautiful sandy beach with gorgeous palm trees, a windy atmosphere, and consistently rideable waves.
The spot is great for surfers of all levels, and in addition, it's not crowded at all. Surfers can enjoy waves all by themselves. You don't have to worry about toilets, food, parking, and shower facilities, as the place has it all.
You can find tons of schools and camps to help you out. You might find some poor-quality waves during a few months, but mostly, it works great throughout the year. So before you wax your board and paddle out to catch a perfect wave, do check the weather forecast or ask the locals to guide you.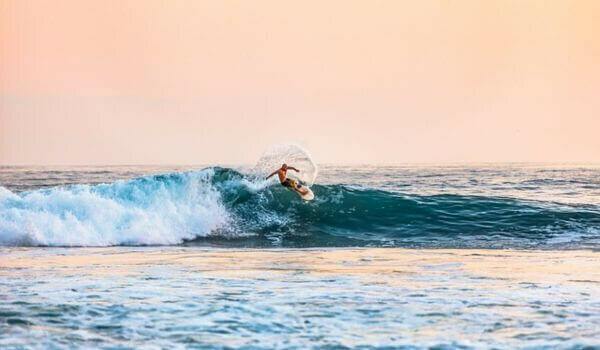 3. Nakupenda
Another stunning beach on the list is Nakupenda. A nice and quiet beach with sand so soft that you feel like you are walking on a cloud and turquoise water gives this place an amazing look.
In Swahili, Nakupenda stands for "I Love You," and you can just feel the love in the air. The locals are quite hospitable and friendly. Despite being a great surf spot, it can also be a perfect honeymoon destination.
4. Tamarins
Tamarins is great for folks who wanna try out surfing for the first time. It's a beginner's beginner-friendly spot with a mellow, swell, sandy bottom and flat rocks. It offers low tides and good surf conditions.
Don't forget your sunscreen, as it may get a little hot here, especially in the summer months. The warm water makes it easy to surf in these crystal clear waters. For first-timers, it can be memorable surfing there.
5. Dongwe Doughnuts
Have you ever imagined surfing and enjoying the day at a tropical beach? Well, if that's your dream destination, then Dongwe Doughnuts is the place for you. The spot offers good-quality waves for surfers of all levels.
When the wind sweeps in from North or N/W, it dishes out a right-hander that's not just good barrels for a solid 20 meters over a shallow reef. Dongwe's sweet spot lies in the East, and N/E swells. The waves start from 3 ft and can go above 6ft. You can find the best surfing conditions during mid and low tides.
While the spot offers an empty lineup, you should be cautious of urchins and rips.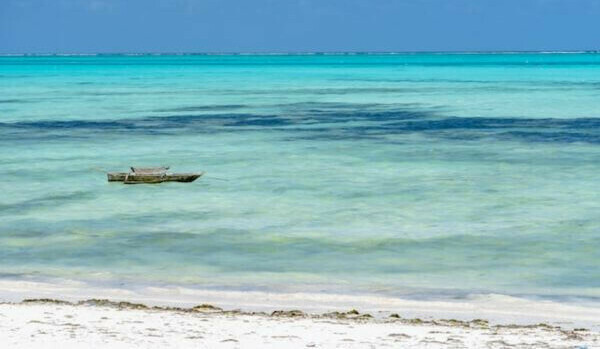 6. J-Box, Jambiani
Jambiani is a stunning sandy beach with a peaceful ambiance. It's a good place to relax, sunbathe and surf. J-Box, nestled in the outer reefs of Jambiani, offers challenging right-handers for intermediate and experienced surfers.
It works great during low tides. The best surf conditions are from June to October, with peak conditions in July and August. You can enjoy a good 1-3 hour surfing session there.
7. Kiwengwa
Located on the N/E coast of the Tanzanian Island of Unguja within Zanzibar, Kiwegwa is a village between Pongwe and Pwani Mchangani. The place is famous for its surf schools and experienced trainers who can help you make your surfing experience a better one.
Whether you're a novice or a seasoned surfer, Kiwengwa's consistent and favorable wind conditions make it a top destination for you if you are looking to ride the waves and enjoy the vibrant surf culture of Zanzibar.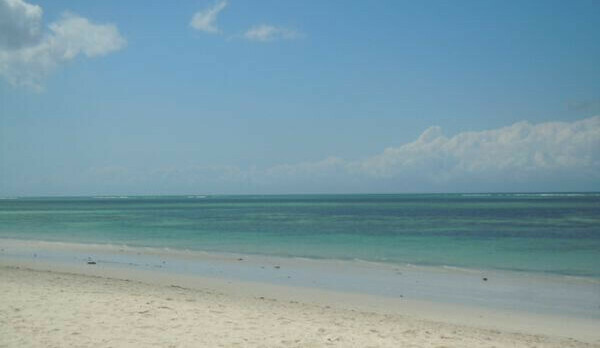 8. Pwani Mchangani
Another tourist attraction in Zanzibar is Pwani Mchangani Beach. It's a beautiful sandy beach stretched across the coastline. It's a nice place to enjoy some solitude while enjoying your passion for surfing.
In addition to budget-friendly guest houses, you can also find luxurious resorts to make the most out of your stay. The restaurants and cafes offer yummy fresh seafood and other local cuisines.
Surfers looking to enjoy barrelling will love this place. You can either carry your own equipment or rent surfboards (It's pretty easy). The best season to surf here is from June to October when it offers consistent swells and rideable fun waves.
9. South Reefs
The southeastern coast offers reef breaks that make this place a haven for surfers. The consistent swells and versatility of waves are suitable for surfers of all levels. For beginners, the gentle reef breaks offer an ideal environment for learning and mastering the basics of learning. But the story doesn't end here.
There is no need to be disappointed if you're a pro or a seasoned surfer. You can find some challenging big waves that await you. Your aerial maneuvers are gonna be perfect here. So, have fun and enjoy your memorable holiday experience.
Conclusion: Best Surf Spots In Zanzibar
In a nutshell, Zanzibar is a cool surfing place that offers relaxing vibes and quality waves to keep you entertained. Zanzibar is a spicy blend of culture, friendly locals, and a laid-back atmosphere that turns your surfing trip into a full-blown adventure.
The waves might not be breaking records, but the vibes are unbeatable. From the killer Nungwi views to the beginner-friendly Tamarins, it's a surfing journey wrapped in turquoise waters and sandy toes. With a variety of waves to choose from, this place is a surfer's paradise.
Bio: Written by João from Surf Spots, a site dedicated to reviewing surf beaches all around the world.